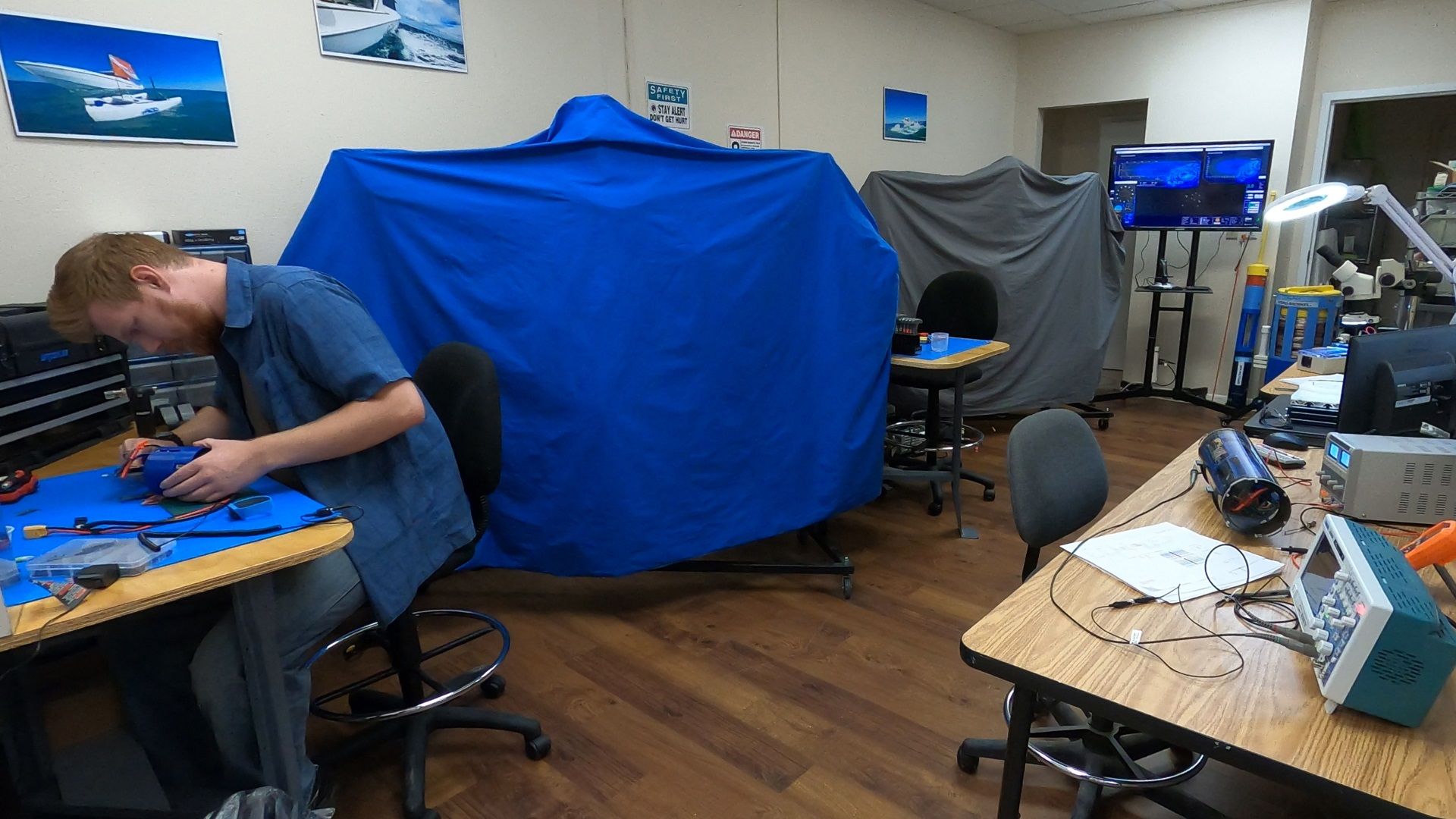 The weather this week did allow us to get on the water and do some SeaSearching, but the visibility at the bottom was near or at zero. Because of the low visibility, we figured it was a good time to give you a tour of the SeaSearcher Lab where the visibility is much better. The SeaSearcher lab is outfitted to build and maintain the SeaSearchers and supporting components. Pardon the covers. They are a little modest. Our lab has a dedicated workstation for each SeaSearcher. Yes, there are two SeaSearchers. Both are fully operational and leap-frog each other with upgrades. On the bench, you can see one of our SeaSearcher engineers doing some work on the power distribution module for SeaSearcher #2. Another picture shows one of our scientists calibrating the metal discriminator module that is being fitted onto the SeaSearcher. We can connect either SeaSearcher to our lab network and run it through its paces using our rolling monitor station before we take it to the field.
This week we turned some of our resources to support the COVID-19 effort by creating N95 masks. We are using our largest 3D printer, which we use to print SeaSearcher internal and hull parts, to print Montana N95 mask frames for first responders and those serving seniors. If all goes well, we will be able to turn all of our 3D printers towards this task for a few days in order to meet a short-term need.
Finally, since we were not able to share any pictures from this week's diving because of the visibility, we figured we would share a picture of one of our archaeologists examining a large wooden feature located just North of where we are currently investigating. According to the archaeologist and wood sampling, it is likely period and is part of the deck planking of a large ship.