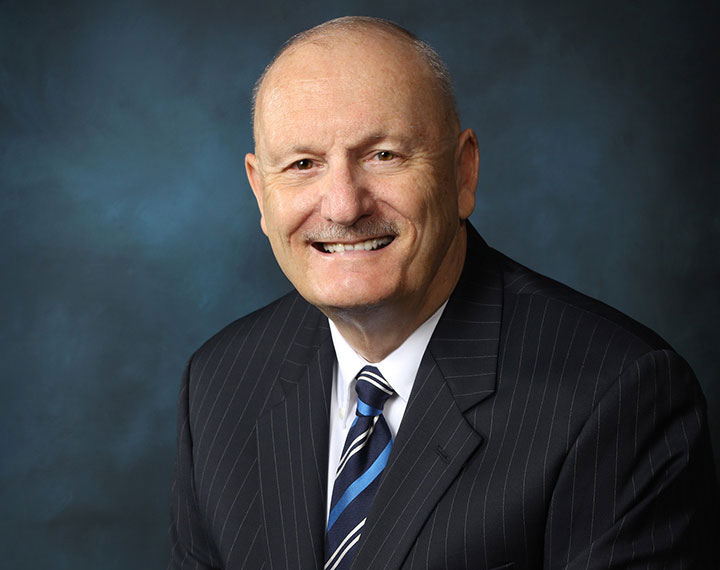 "Dr. Bragdon's deep academic and real-life experience and connections will immediately contribute to the mission of Seafarer Exploration. Dr. Bragdon is already providing vision to Seafarer and is helping to integrate government and institutional requirements into the business model of the company. Sustainability and cooperation with local, national and international regulations are a requirement for the future of the company and Dr. Bragdon will be a key asset in that environment."
– Kyle Kennedy, CEO
Seafarer: What is your background?
Dr. Clifford Bragdon: My background is associated with academia, research and consulting in the disciplines of urban and regional planning, sustainability, intermodal transportation, economic development, homeland security-resilience, cybersecurity, real-time simulation (3D/4D) and virtual reality. University positions over 40 years have included: Full Professor, Dean, Associate Provost and Vice-President associated with Georgia Institute of Technology, Florida Institute of Technology, Florida Atlantic University and Dowling College/The National Aviation and Transportation Center. Distinguished visiting professorships have included: Emory University College of Medicine and the School of Public Health and Auburn University School of Aerospace Engineering.
I am the Founder and President of the Global Center for Preparedness and Resilience™. It is a global think tank dedicated to integrating the preparation for and response to human and natural disasters and supporting the economic, social and physical well-being of the world's population and the global biosphere. Additionally, I have maintained an internationally recognized practice in multiple disciplines, serving over 250 public and private sector clients (75 Fortune 500 companies).
I was appointed the Executive Director of the world's first Intermodal Transportation Safety and Security Center, approved by the U.S. Congress receiving $10,000,000 in funding. I have authored twelve books including several chapters, over 100 articles, and presented invited lectures worldwide in over 20 countries for the UN, NATO, EU, US Department of Defense, three Olympic Committees, and eight federal agencies. I have been an advisor to the Presidents of Greece and Costa Rica, two U. S. Presidents, three Governors, and Mayors Rudy Giuliani (NYC), Yury Luskov (Moscow) and Andy Young (Atlanta). My most recent book Transportation Security is used exclusively by the Department of Homeland Security and nearly 100 universities as the leading text on the subject. My seminal chapter on "Global Resilience to Enhance Crisis and Emergency Management" is in the leading textbook, Crisis and Emergency Management Theory and Practice, Edited by Dr. Farazmand. Media consultancies include CBS, ABC, NBC, CNN, FOX and the New York Times.
Honors include New York State Engineer of the Year, National Academy of Science, Transportation Research Board, American National Standards Institute (ANSI) Fellow, Founding Board Member-American Association of Energy Engineers (AAEE) and Former President of AMCEE (Association of Media-Based Continuing Engineering Education). I am listed in Marquis: Who's Who in the World, Who's Who in the United States, Who's Who in Ecology and Who's who Among Educators. I hold two U.S. government patents that include "Intermodal Transportation Simulation System, (ITSS)." My ITSS patent was ranked ninth (9th) among the twenty-one (21) most important new inventions for the 21st Century (June 13, 1999, Newsday 2000).
Graduate level degrees include a Master's Degree from Michigan State University and Ph.D. from the University of Pennsylvania, both in Urban Planning, with academic honors. I am also a former U. S. Army Captain, Viet Nam Era, Medical Service Corps. Based at the Army Environmental Hygiene Agency (AEHA) my military assignment was Bio-Acoustics prevention and noise abatement control for the U. S. Army Office of the Surgeon General.
With your specialized skills and talents, you chose to work with Seafarer when you can work anywhere in the world.
My interest and achievements have been associated with strategic initiatives and innovation. I have participated in a vision that will make our world a more unified and precedent-setting place for human habitation by collectively integrating the best of the past with the future. This includes creating a holistic environment, merging air-land-sea with our five human senses. I call this historic-futurism. Seafarer I believe is on the cusp of creating neoteric principles that will make a major contribution toward improving our planet's living environment. I want to be part of this initiative. Kyle Kennedy's leadership is in sync with this path.
Water constitutes 71% of the earth's surface. Traditionally it has been used primarily for extractive or repository purposes. Extractive removal (e.g., fish, natural resources, water supply, minerals, archaeological treasure, etc.) and indiscriminate disposal (e.g., waste, sewage, unwanted and undesirable by-products, etc.). There has been a limited focus on water restoration and enhancement of this irreplaceable resource. Seafarer's mission is to examine underwater historical maritime resources that have multiple attributes: educational, social, anthropological, historical and archaeological, without disturbing water as a finite living resource. Furthermore, if Seafarer encounters sites that already have been disturbed and polluted, they will document these locations and those attributes that currently degrade the water (e.g., batteries, abandoned mechanical equipment, parts, etc.). They have instituted a recycling program to participate in documentation and removing these items, where feasible. Consequently, Seafarer has initiated a comprehensive water resource management system that is environmentally compatible with our biosphere, as a by-product of Seafarer's underwater exploration.
It is my belief this will become the prototype archaeological model for underwater historic-futuristic activities. The attributes of this recovery will be a multi-faceted focus on education, historical significance, representing societal, anthropological and cultural values, political, and economic features that can be shared with both the lay and scientific community (physically, electronically, interactively, real-time-sensory features in virtual reality, utilizing AI- artificial intelligence and other advanced technologies).
Seafarer Exploration Corp is following a proper procedure since it has the distinction of being the only company in the United States to receive a full 1A-31 Recovery Permit from the State of Florida in over 32 years. It was carefully reviewed by the Attorney General, and Governor Rick Scott before being approved by the State of Director of Florida Bureau of Archaeology and Research. Seafarer expects to begin recovery of the underwater cargo of what is believed the 1715 "Silver Plate" Spanish Galleon, the Santisima Trinidad y Nuestra Senora de la Concepcion, beginning this summer. By the Ship's artifacts already accounted for an extensive research in multiple countries, Seafarer estimates that the cargo of gold, silver, gems and other precious artifacts is valued in billions of Dollars. This find, if achieved, would be the largest maritime financial treasure in North America and the second largest ever recorded in the world. However, rather than being typical "Treasure Hunters," Seafarer will not sell off these precious historic and valuable items on a piecemeal basis. They rather seek to conserve and preserve these valuable items as a comprehensive collection.
In summary, it is my desire to assist Seafarer Exploration in the design, planning and implementation program that will become the global model for applying underwater historic futurism. Ultimately this can be initiated and emulated by institutional organizations on a worldwide basis in order for these historical artifacts to become blended with the present and displayed, viewed, analyzed and enjoyed in the future.
What are your goals and ambitions with Seafarer?
My philosophy is to be visionary, which will allow me to create for Seafarer an innovative pathway for their company to maximize its position in creating a resilient future by demonstrating accomplishments in multiple areas. These primary resilient attributes will include, safety, security, health, and sustainability. To achieve this overall goal it will be necessary for me to be affiliated with the corporate leadership of Seafarer, interacting with them continuously, and developing a timeline with sequential objectives, reflecting feedback over a minimum five year period (2018-2022). My strategic planning process and pathway for Seafarer has been enthusiastically accepted by both the upper management and Seafarer primary stockholders.
The present model utilized by most entities involved in underwater exploration is to literally focus on the rapid and oftentimes indiscriminate recovery of treasure as bounty, at all costs, disregarding removal protocol, natural underwater assets, and the multiple benefits associated with the ship, its history, logistics, manifest, weather, geography, site characteristics, culture, technology and educational and scientific elements. The immediacy of the bounty and its expeditious recovery is the typical focus of most treasure seekers, which is a myopic approach that Seafarer does not endorse.
Resiliency and these four attributes must all be collectively applied, which is a patented process that I instituted through the Global Center for Preparedness and Resilience™. Seafarer will be using this procedure throughout their entire maritime and recovery process for whatever sites they have approval from the Florida Bureau of Archaeology and Research to explore within the State.
The second goal beyond resiliency is to develop a comprehensive outreach initiative for the community at large, along with academic and research-based institutions and organizations. A comprehensive maritime inventory and repository of all recovered assets, including the process by which the Spanish Galleon was found, will be detailed. This will include discovered shipwreck scatter, log records, magnetometer and technological surveys, conservation and restoration processes, with full documentation describing their detailed characteristics textually and graphically, will be maintained in real-time by Seafarer Exploration Corp. This database will become the foundation of the multiple elements of Seafarer's outreach initiative in the public and private domain.
Outreach efforts will include:
Educational InitiativesEstablish alliances and partnerships with recognized educational institutions and research centers of excellence to promulgate programs that support outreach to academia and the community at large. Focus on establishing degree-based courses (e.g., underwater archaeology) that complement academic minors- majors, concentrations, and degrees at the undergraduate and graduate level within colleges and universities. Foster the development of curriculum and educational programs, distinguished lectures, tours and trips that are appealing to all age groups, including primary and secondary school systems. Establish both outdoor and indoor conservation laboratories for the recovered items so they can be properly restored.Develop distance based and continuing education – lifelong learning programs and subject areas/series that will have educational appeal to students, practicing professionals and perennials (senior citizens). Some of these may be certified based to assist those requiring Continuing Education Units (CEUs), while other courses and offerings will have general appeal to government and public patrons.

Lecture series, symposia, and conferences including recognized authorities and international experts should be established relating to the underwater recovery by Seafarer on specific themes appealing to professional societies, organizations, governments, businesses, the public, and media.
Media and the Performing ArtsSpecialize media (e.g., National Geographic, Smithsonian, CNN, History Channel, BBC, etc.) will develop and create programs that will be appealing in various subject areas, including the Seafarer 1715 "Silver Plate" Spanish Galleon exploration off Melbourne Beach, Florida. Beside media programming, there will be interest in live regional audiences and events. Proximity to both the Space Coast and the Treasure Coast and Orlando is a sizeable cohort. Orlando ranks as the number one visited destination in the entire United States, drawing 72 million tourists in 2017, according to the U. S. Travel Association.Besides lectures, other entertainment venues could be developed around this Seafarer 1715 Spanish galleon Melbourne Beach discovery. A docudrama, feature film, musical and/or theatrical production could be very appealing. In 2017, The Henegar Center for the Performing Arts ranked first in program excellence among all community theaters (numbering eight) in Brevard County. The Henegar main stage has an audience capacity of 535 patrons, along with an orchestra pit. The Feller Theater located at the Henegar supports theater for elementary through high school students interested in drama and that could be another venue creating a storyline about this unique Spanish Galleon adventure and recovery, using a younger cohort.
FacilitiesThe Santisima Trinidad y Nuestra Senora de la Concepcion's historical records suggest gold, silver, gems and other precious artifacts valued in excess of billions of dollars if recovered, will demand a creative architectural design and the creation of a noteworthy facility for tourists, the general public and practicing professionals to visit and utilize. This maritime underwater recovery will be the most valuable in North America's history and the second highest valued site ever recorded in the world. It needs to be showcased in a museum, with a virtual museum capability, for the public at large, as well as scientists, archaeologists, historians, scholars, and educators. Physically, this would include a highly interactive exhibition component that would be electronically propagated virtually to multiple off-site locations to maximize human exposure.
State of the Art Technology Incorporating ResiliencyDetailed technologies in the present and future recovery process will be inventoried and analyzed in order to minimize any impact upon the natural underwater resources to ensure the maximum resiliency of this finite water-based habitat. The use of computer-based analog incorporating AI modeling, multiple sensing technologies including Lidar (Light detection and ranging), 3D/4D simulation, autonomous and remotely operated vehicles (ROV), and advanced logistics management practices, are among other attributes that will be part of the Seafarer venue. Collaborative research initiatives will be pursued, including testing protocols, applied theories, and practices.
Where do you see Seafarer in 5 years?
If the ship's treasure is properly recovered, in half a decade there will be major expansion and growing activity paralleling space exploration, anticipated by Seafarer's accomplishments, (beginning with their two Florida Bureau of Archaeology and Research 1A-31 Permitted sites). It is my opinion this geographical area that presently includes Melbourne Beach, and all of Brevard County Florida, extending to Orlando, Florida will be commonly referred to as The Space-Treasure Coast. Most of the underwater archaeological recovery for the two Florida Permitted sites will have occurred, following a proper resilient protocol. The anticipated valued treasure will generate significant worldwide attention and a rapid increase in tourism. This will be in parallel with Orlando, now registered as the number one visited destination in the entire United States, generating 72 million tourists (2017). Assuming a modest annual growth of 5% Orlando tourist growth should exceed over 90 million tourists in five years. Demographically the Orlando tourism spillover, combined with that generated by in the Melbourne area, will significantly expand. If everything projected occurs, their treasure from the 1715 Spanish Galleon "Concepcion," will be the most important economic generator of additional national and international tourism in the State of Florida. Since tourism ranks as the second leading source of income generation in the state, Brevard County must be properly positioned through strategic planning and development to anticipate such tourism expansion and its concomitant characteristics (positive and negative).
Strategic planning for Seafarer Exploration Corp will become geographically multi-faceted, beginning in the Space-Treasure Coast region. In addition, I envision the following trends to occur:
Further exploration of the known shipwreck sites in Florida between Jacksonville and Miami, will occur, once the Florida Bureau of Archaeology and Research awards full 1A-31 Recovery Permits to qualified applicants
A comprehensive strategic master plan, that incorporates resiliency, will be developed and approved by governmental entities relating to underwater archaeology associated development. Master plan elements will address infrastructure, transportation, public and private sector institutional enhancements and development, and other related land use planning issues
Greater capital improvement program management and budgeting will be established
Seafarer Exploration Corp may seek to expand their corporate footprint in the Melbourne, Florida area.
Seafarer will be responsive to domestic and international inquiries and opportunities, with the development of partnerships, alliances, joint initiatives and agreements.
Initiation of advanced sensor-based technologies for the potential application of underwater resource identification, recovery, logistics, management, and patents.
Increasing enrollment of collegiate majors and minors in ocean engineering and underwater archaeology, along with certification, distance learning, continuing education, and summer programs. Expansion of this subject area into history, business, engineering, sciences, sociology, anthropology and other disciplines.